The
News
Dedicated to Austrian-Hungarian Burgenland Family History

THE BURGENLAND BUNCH NEWS - No. 265
March 31, 2016, © 2016 by The Burgenland Bunch
All rights reserved. Permission to copy excerpts granted if credit is provided.

Editor: Thomas Steichen (email: tj.steichen@comcast.net)
Archives at: BB Newsletter Index

Our 20th Year. The Burgenland Bunch Newsletter is issued monthly online. It was founded by Gerald Berghold (who retired from the BB in the Summer of 2008 and died in August 2008).


NOTICE: Your Editor will be vacation, traveling mid-April to early May and for a shorter time near the end of May.

Therefore, there will not be a BB newsletter published at the end of April. Further, the end-of-May edition will likely be posted one day late.

Current Status Of The BB:
* Members: 2428 * Surname Entries: 7824 * Query Board Entries: 5508 * Staff Members: 17



This newsletter concerns:

1) THE PRESIDENT'S CORNER

2) PROPER PEASANTS: PERSONAL SOCIAL NETWORKS

3) TRANSLATION OF A LONG-FORM HUNGARIAN CIVIL BIRTH RECORD

4) DRAßBURG WAR MEMORIAL MONUMENTS

5) HISTORICAL BB NEWSLETTER ARTICLES:
- EMIGRATION ARTICLES FROM THE "VOLKSFREUND" - EARLY 1900's

6) ETHNIC EVENTS

7) BURGENLAND EMIGRANT OBITUARIES (courtesy of Bob Strauch)

1) THE PRESIDENT'S CORNER (by Tom Steichen)


After the bits and pieces here in my "Corner," I begin the main articles with yet another piece based on the book "Proper Peasants." This month's Article 2 is the fourth article from the book and speaks to Personal Social Networks.

Article 3 starts a new (but short) sequence of three articles that provide Translations of Long-Form Hungarian Civil Records, those used from 1895 until 1906 The first will be for an example Birth Record.

Article 4 derives from material shared by BB member Andreas Shoredits, of Cape Town, South Africa. He sent photographs of the Draßburg War Memorial Monuments... I transcribed the data and offer it here and have added it to the BB Draßburg village thumbnail history.

The remaining articles are our standard sections: Historical Newsletter Articles, and the Ethnic Events and Emigrant Obituaries sections.




Burgenländische Gemeinschaft Anniversary Celebration:
Dr. Walter Dujmovits recently sent me a letter:
Dear Tom!

We intend to celebrate our anniversary "60 years Burgenländische Gemeinschaft" in an impressive and worthy way this year. It is to be a thanks for all who established that work and to you who currently make a useful contribution to keep and strengthen the solidarity with Burgenland. I'd like to cordially invite you and your family, your friends and members of the Burgenland Bunch to take part. I ask you to print this invitation in the BB-Newsletter.

Highlights of the event will take place at the beginning of July.

Saturday, July 9th:
Extended board meeting with participants from abroad in Mogersdorf.

Sunday, July 10th:
Morning: Holy mass with the Bishop of Burgenland Dr. Ägidius Zsifkovics in the basilica in Güssing.
Afterwards: Morning pint in Güssing with live broadcast on the radio.
Afternoon: Picnic in Moschendorf.

Tuesday, July 12th:
Morning: Reception Governor Niessl and Bishop Zsifkovics in Eisenstadt. Afterwards we visit the city of Rust.
Evening: Wine christening in the name of "Miss Burgenland" in Moschedorf.

Sincerely,
Walter Dujmovits
So, know that you are invited and do attend if you are able.




RootsWeb Problems: You may have noticed that the our prior BB Newsletter Notice did not arrive until March 15th, rather than the February 28th date you might have expected it. This was because our Notice is sent using the Rootsweb mailing list service... and that service was not available.

Ancestry.com is the host of Rootsweb and, late in February, they reported a Rootsweb hardware failure, one severe enough that the site was expected to be nonfunctional until March 15th. I'm presuming that new equipment had to be ordered, installed and programs and data reloaded. Ancestry promised a March 15 restart and it was back up on that date. And our BB Notice, slightly altered, was sent out on that date.

The Rootsweb site still carries a notice about the issue:
In late February 2016, the RootsWeb site experienced hardware failure. Our development and web operations teams have worked diligently and carefully to restore much of the functionality and we're currently performing a site audit. If you see any issues you'd like to report please reach out to Member Services through our support form.
You can see that there remains work to be done and that they are requesting reports on any remaining issues... so, if you see a problem on Rootsweb, please report it to them.




GEDmatch / FTDNA Dispute: In mid-month March, a dispute arose between GEDmatch and FTDNA, apparently over some potential for a security/privacy breach of DNA data held on the FTDNA site based on information posted on the GEDmatch site.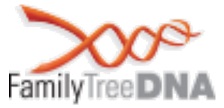 As you may know, DNA data generated by FTDNA is owned by the person submitting the sample for analysis. Thus that owner has the right to export their data and upload it wherever they choose, GEDmatch being an obvious choice for atDNA (autosomal DNA). FTDNA acknowledges this. GEDmatch, being they exist to allow DNA owners to widely compare their data with like-minded individuals, has slightly fewer security constraints than other sites. GEDmatch acknowledges this and simply says that, if this situation is a concern to you, do not upload your data and, if you have uploaded it, remove it (it is easy to do so).

Given this dispute and the fact that uploads of FTDNA data to the GEDmatch site are currently suspended, there have been strident opinions posted on forums and other media by individuals bashing both organizations (depending on the bent of the writer). Some have threatened to stop using FTDNA and to ask for their money back and some want to sue GEDmatch.

To allow you BB readers to be fully informed, I'll repost below the official notices about the dispute:





In mid-March, GEDmatch posted a bright red notice on their website saying:

NOTICE: We are no longer accepting FTDNA DNA kit uploads. We have been asked not to say why. Please Contact FTDNA if you have any questions.
A few days later, FTDNA posted a note on an FTDNA forum about the issue that read:

We have reached out to GEDMatch expressing our concern that their website could potentially lead to a breach in privacy of our customers. Given this, we proposed to discuss the subject with them, but in parallel we suggested that until further clarification and assurances that the privacy of our customers' records are protected, Family Tree DNA uploads should be suspended. We hope that with the cooperation of GEDMatch we can reestablish the uploads in the near future.
This led to an updated notice on GEDmatch:

We regret we had to make the decision to stop accepting FTDNA DNA uploads. FTDNA has threatened to sue GEDmatch over claimed privacy issues. We have been asked not to discuss the details, because it would be to FTDNA's disadvantage. Suffice it to say that FTDNA's own site seems to currently violate these same issues.

We would prefer to work closely with FTDNA in solving this problem to everybody's benefit, but we have not received a response to any of our suggested compromise solutions. The technical obstacles to satisfying FTDNA current demands are significant. It appears that our only alternative may be to remove all FTDNA DNA match results from GEDmatch. The issues raised by FTDNA do not apply to kits from other testing companies.
Then FTDNA posted a longer message on their FaceBook page:

We are reaching out to our customers to make some important clarifications to what is being published regarding GEDMatch stopping the upload of Family Tree DNA results.

1. Let it be clear: the DNA test results, including any raw data available to the customers through their personal page, belongs to the owner of the DNA record, and not to Family Tree DNA.

2. The owner of the DNA record, consequently, can voluntarily submit his/her results to any other outfit, so long as by doing so, the customer does not compromise the privacy of any of his/her matches, or any records in the Family Tree DNA database.

3. More than one customer that has uploaded their FamilyTreeDNA data to GEDMatch has contacted us about a way for people to breach the privacy of a person's Family Tree DNA record, when uploading their information to GEDMatch.

4. At the time of the publication of this note, GEDMatch does not have Privacy Terms, nor General Terms & Conditions published on their home page, or on their registration page prior to registering, and thus, customers are not aware of the potential privacy risks associated with uploading their data to GEDMatch

5. FamilyTreeDNA has tried to reach out to GEDMatch to discuss this subject to find ways to eliminate the risk of potential data breach. We were surprised by their unilateral note on GEDmatch about the discontinuation of the uploads in lieu of a fix, and the new note about supposed threats of lawsuits from us.

6. It is regretful that GEDMatch, who has been a long time business associate and whose owners tested with FamilyTreeDNA, misrepresented our concerns and precipitated a chain of events that could have easily being solved through dialogue.

7. Nevertheless, and always thinking about what is best for customers, we are open to discuss with GEDMatch ways to avoid the risks to privacy that they recognize to exist in their system and we encourage those that would like the upload to be reestablished and privacy issues being taken care of to reach out to GEDmatch.

As always, we thank you for your continued support.
As of March 19th, a joint message was posted reading:

Family Tree DNA and GEDmatch jointly announce that we are in serious conversations regarding issues that have resulted in GEDmatch discontinuing uploads of FTDNA data. Both companies recognize the importance of these talks to their customers and are committed to quickly resolve differences. We regret any inconvenience that may have been caused and assure our users that our primary focus and efforts are geared toward your benefit.



So this is where things stand as I write this note.

Now for a personal opinion (and it is just a personal opinion!):

Being that FTDNA and GEDmatch are independent organizations and that DNA owners have the right to share their own data, my initial reaction is that FTDNA is overstepping by telling GEDmatch what to do and that GEDmatch is overreacting… so there is room on both sides for compromise and a fix. It is my opinion that in the best interests of both organizations to do so, so I expect that it will happen.

Hopefully by the time this newsletter is published, the dispute will be resolved (but I'll keep you informed).



Good News? As of March 25th, the angry red notice on GEDmatch was gone and this (gentle blue) notice replaced it:
Note that existing 'F' (FTDNA) kit numbers on GEDmatch will be changed to 'T' followed by a random kit number. This will probably happen in the next few days. This change does not affect Ancestry or 23andMe kit numbers. If you need to make copies of your results with the old kit numbers, please do so now. Name and email information for matches will stay the same, and can be used to retain continuity in your records. Thank you for your support.
In addition, a new note appeared in the "Raw DNA file Uploads" section saying, "We are ready to receive FTDNA raw DNA files as soon as the new file format becomes available for download from the FTDNA site."

Correspondingly, over on the FTDNA site in the "Download Raw Data" section of FamilyFinder, this note appeared:
Read before you download: We are committed to protecting the privacy of our customers. By downloading any raw data or reports, you hereby indicate that you are the owner of that data or have permission to download the data, and you further indicate your understanding that Family Tree DNA cannot in any way guarantee the security or privacy of your downloaded data. Furthermore, you understand that by uploading your raw data to a third party application and linking it to your name, Family Tree DNA kit number, email address, or any other identifying information, the security of your raw data and record is further put at risk and may lead to the violation of Family Tree DNA Privacy Policy. By downloading your raw data, you assume the liability for any breach of privacy and release Family Tree DNA from any privacy violation that results either directly or indirectly from the downloaded raw data and/or upload to a third party application.
Apparently the "new file format" is not yet available, though from an examination of my previously downloaded files, it appears that the FTDNA Kit Number appears only in the name of the wrapper file for the compressed data file.

For example, if 000000_Autosomal_o37_Results_20160325.csv.gz is the filename of the wrapper file for the "old format" downloaded compressed data file, then the first 6 digits, "000000" (in this made-up example) is the FTDNA Kit Number, "o37" is the file format version number, and "20160325" is the date the file was produced. Inside this compressed wrapper file is the actual data file (the name of it does not include the Kit Number, at least for my files) and the actual uncompressed data inside that file also does not include the Kit Number... so the fix seems to be to change only the wrapper file name. Shouldn't take more than a few months, right?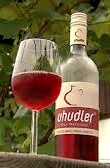 Burgenland's Uhudler Wines: Speaking of disputes, the producers of Burgenland's Uhudler wines recently faced a court order by the Landesverwaltungsgerichts, the Regional Administrative Court, requiring that all vines of the Ripatella grape variety (a primary grape in modern Uhudler wines) had to be removed (uprooted) by March 15. This variety was first planted in 2003 by a number of southern Burgenland vineyards, being added to the traditional Uhudler varieties: Concord, Isabella, Elvira, Clinton and Noah. However, the argument was put forth that it was not a "noble" European vine (it was "just an American import"), and therefore should be banned. The EU and courts agreed, thus the order to remove the vines.

A little background is appropriate here...

Uhudler originates from the time of the phylloxera aphid infestations in Europe (1860 to 1900), which led to the nearly complete loss of the traditional European grape varieties, despite many attempts to exterminate the pest or develop alternative, non-traditional viticultural practices.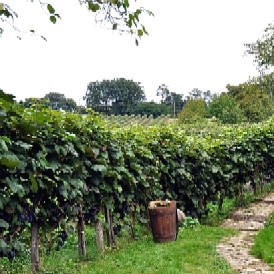 At first, disease resistant North American vines (including some used in Uhudler wines) were imported to Europe and used to produce wine, but then it was discovered that a "European" solution to the phylloxera problem was to graft the old European varieties onto the North American rootstocks. Then, in order to allow European wine to regain its place, North American vines (including those used in Uhudler) were forbidden to be planted under the wine regulations of Europe and any wines produced from existing vines could not be sold (though production for private consumption was still permitted).

However, prohibition led to rising popularity and the Austrian Wine Law was eventually changed to allow Uhudler to be marketed in 8 communities in southern Burgenland... which was fine until some of the vineyards planted the Ripatella variety, which wasn't approved, even for Uhudler.

Once the order came down to rip out the Ripatella vines (sorry, I couldn't resist phrasing it that way), the Burgenland Agricultural Ministry and the producers started to fight back and had a genetic analysis performed by the Geisenheim University in Germany, a school that specializes in basic and applied research serving the wine, beverage and horticulture industries and offers degrees only in those fields. Their analysis showed that the Ripatella variety is identical with the long-approved Concord variety. Thus, the State Administrative Court overruled the Regional Administrative Court and withdrew the order to remove the vines (even though that occurred two days after the original deadline to remove the vines).

It appears the crisis is now over, so enjoy a glass of Uhudler should you be in southern Burgenland!




Phylotree.org Releases mtDNA Tree Build 17: In Newsletter 261 (30 Nov 2015), Article 3, I discussed mitochondrial DNA (mtDNA) and noted that:
"...the 'keeper' of the most up-to-date version of the mtDNA tree is the Department of Forensic Molecular Biology at the Erasmus Medical Center in Rotterdam, Netherlands, via their website www.phylotree.org and their database called Phylotree. Updates are released frequently and Phylotree is now on Build 16."
That statement is no longer correct, as Build 17 was released on February 18th. While they have yet to add a description of the changes between Builds 16 and 17, the site does note that this "comprehensive phylogenetic tree of worldwide human mitochondrial DNA variation" now includes over 5,400 nodes (haplogroups) with their defining mutations. As of February 2014, the count was 3,872 nodes, so the tree obviously continues to incorporate information from newly sequenced data, resulting in new haplogroups.

Haplogroups for my wife and I remain unchanged—but that may not be true for you so I suggest obtaining an up-to-date haplogroup assignment via James Lick's mtHap utility at http://dna.jameslick.com/mthap/ (see the above-mentioned BB article for a reminder on how to use this tool).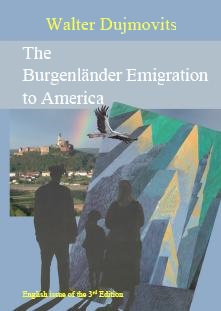 Update for book "The Burgenländer Emigration to America": Here is this month's update on purchases of the English issue of the 3rd edition of Dr. Walter Dujmovits' book "Die Amerika-Wanderung Der Burgenländer."

Current total sales are 992 copies, as interested people purchased 15 more books this past month, which was a much better result than the smallest-ever sales of six books last month. The current count also suggests that I will be reporting our 1000th copy sold next month... truly a satisfying thought!

As always, the book remains available for online purchase at a list price of $7.41 (which is the production charge for the book, as we purposely choose not to make a profit so we can avoid dealing with the income tax consequences and so you can obtain the book at as low a cost as possible!), plus tax & shipping. See the BB homepage for a link to the information / ordering page and for any current discounts (and there is at least one discount on price or shipping available most of the time... if not, wait a few days and there will be one!).





Burgenland Recipes: Another recipe from cookbook "Recipes for the New Millennium" (© 2000, Morris Press), subtitled "A Collection of Recipes from Former and Present Parishioners of Holy Ghost Church, Bethlehem, PA."

Like I noted for a previous recipe, this month's recipe lacked the finishing touch of a proper frosting, so I raided the web for an excellent frosting choice. I've also chosen to add a few additional instructions... you'll find them in [square brackets like this].

HUNGARIAN WALNUT TORTE (from Erika M Cirullo)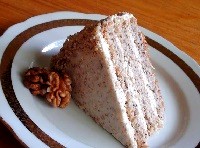 Cake:
12 egg yolks
12 T. sugar
12 T. [ground] walnuts
6 T. fine bread crumbs
3 tsp. baking powder
12 egg whites

- Prepare 3 (9-inch) round cake pans by greasing and flouring very well. [Alternativly, spray the bottom and the sides of spring-form cake pans, line the pans fully with parchment paper, then spray the top of the parchment lining with cooking spray.] Set aside.
- Cream egg yolks and sugar until light and fluffy and lemon in color, about 10 minutes at high speed. Add [ground] walnuts, bread crumbs and baking powder. Mix throughly.
- With clean beaters [and bowl], beat egg whites until very stiff (I add a dash of salt to make them stiff faster and glossier). Fold into cake batter very well.
- [Divide the batter between the cake pans] and bake at 350°F [in preheated oven] for about 20 minutes. [Let the cakes cool in the pan and then remove.]

Walnut Buttercream Frosting:
1/2 cup milk
1/4 cup sugar
10 T. ground walnuts
1 cup unsalted butter, at room temperature

- Place the milk, sugar and ground walnuts in a pan. Bring to a boil and reduce heat. Cook the walnuts until milk reduces to almost nothing. Set aside to cool then place in the fridge to chill.
- Beat the unsalted butter until very fluffy. Gradually add the chilled walnut mixture and beat a little longer until very fluffy. Place the walnut buttercream in the fridge for 15 minutes.

Final Steps:
Spread the top of each cake layer with the walnut buttercream and stack the layers. Spread the side with the remaining walnut buttercream. Sprinkle the sides with finely ground walnuts. Carefully place the cake on a platter and chill the cake. Slice and serve.

[Walnut Buttercream Frosting recipe from:
http://zsuzsaisinthekitchen.blogspot.com/2012/08/hungarian-walnut-cake-diotorta.html]





Cartoon of the Month: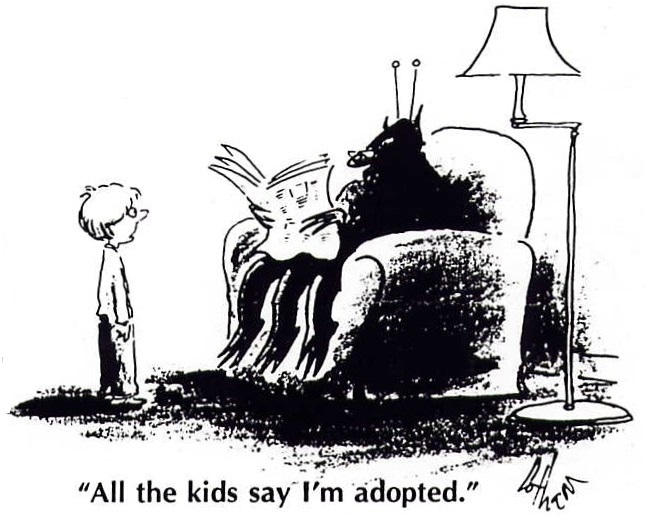 2) PROPER PEASANTS: PERSONAL SOCIAL NETWORKS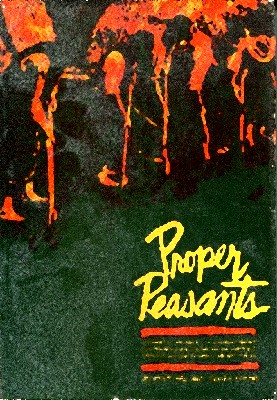 In Newsletter 237, I introduced the book "Proper Peasants: Traditional Life in a Hungarian Village," written by Edit Fél and Tamás Hofer. In Newsletter 253, I wrote about family structure in

Átány, the village described in the book.

In Newsletter 263, I wrote about the social structures with the village. This month, I will try to relate what authors Edit Fél and Tamás Hofer have to say about the network of personal social relations.

Again, my intention is to describe those details that might enlighten us on how our Burgenland ancestors lived and interacted with their fellow citizens, this time, being with their kin (real or imagined). Most of the material in this article will come from Chapter 8, titled "Consanguinity, Affinity, and Fictive Kin-Ties."

Consanguinity is the "quality of being descended from the same ancestor as another person" ...a "blood relationship." Affinity is a "relationship, especially by marriage, as opposed to blood ties." Fictive refers to "a

kinshiplike

relationship

among

people

who

are

not

related

by

heredity,

marriage,

or

adoption,

often

involving

the

use

of

kinship

terms." People in Átány maintained relationships of all three types, often even unto death.

However, I must comment that I suspect that the practices described by Fél and Hofer

on this topic (and echoed in my article here) are much more specific to being a village of nearly singular Hungarian (Magyar) ethnicity (95%+), of predominantly Calvinist faith (80%, but the controlling and only church present in town), and of the close-knit, insular farming society of a town on the Great Hungarian Plain far from borders or the influence of strangers.

Burgenland's mixed but ethnic-German-dominated people were predominantly Catholic and Evangelical Lutheran and they were at the crossroads of Central Europe, so one might expect their personal social network to be influenced by multiple sources, peoples and traditions. Nonetheless, I shall present what is said and leave it to you to consider how applicable it might be to your ancestors.





Consanguinity (Blood Relatives)

The most important lineage group is the ág, which means both "the branch of a tree" and a "family lineage," with the terminology of a branching tree used to describe the branching of a family. Husband and wife belong to different ágs, with a woman remaining in the ág of her birth to the end of her days. Children belong to the ág of their father (unless illegitimate, then they belong to that of the mother). However, daughters are considered largely irrelevant to the ág since "the ág goes after the name" or "the ág is led by the sons." Most peasants record their ág through only three generations, though the gazda class may extend it through five generations. While the Christian name of the earliest family settler in the village may be known, the generations between are usually lost... lines are traced back only 80 to at most 120 years.

The ág is also reckoned collaterally... that is, cousins and aunts and uncles, out to the third (or at most fifth) iz. The iz (grade) is recognized both up and down the lineage as well as collaterally... a father-to-son relationship is of the first iz, but so is that of brothers. Likewise, grandfather/grandson is of the second iz, as are first cousins.

Belonging to an ág means being invited to all family events (marriages, funerals, etc.). However, over time, related, same-surname ágs always split into separate ágs; although memory of their once-existing unity is not completely lost, invitations to family events cease. The separated ágs are often distinguished by surnames and/or nicknames, with the surname of the wife of the eldest ancestor of a branch of a divided line frequently used to distinguish it.

There is also a wider, bilateral consanguinity category called the atyafiság that combines blood relatives on the father's side with those on the mother's side, again out to the third (or sometimes fifth) iz. However, in-laws are not considered a part of the atyafiság and, indeed, such by-marriage relationships are not considered equal to blood relationships. Even further, the patrilineal relationships are considered stronger than matrilineal ones: "a child of a father's brother is nearer than one of a mother's brother."

There is also an older term, though its exact origins are now lost, that refers only to a father and his sons and grandsons: the had. This terminology may have arisen due to the practice of clustering the residences of grown children in the immediate vicinity of that of the father—and its "footprint" remains in the residential map of the village of Átány (though as more sons-in-law "marry in" or male lines die out, the clustering of surnames within the village is becoming less evident). This settlement practice was common on the Great Hungarian Plain and such settlements became known as "hadas settlements."

The nemzetség is an old-fashioned kinship concept that refers to all males of a surname, living or deceased, that were born within the village to an "ancient" line (Átány is first mentioned in a record dated 1407 but, based on archeological evidence, likely was founded in the tenth or eleventh century). If you know when your ancestor arrived in the village, you have no nemzetség! Perhaps its closest synonym is "clan," though modern usage also relates it to "race" or simply "family."





Fictive (Kinship-like Relatives)

Nász

Perhaps the most "solemn" of the kinship-like ties is nász. This is a term meaning wedding/marriage, but a variation of the term, nászom, is applied to the parents (and grandparents and sometimes even to the in-laws of the brothers and sisters) of married couples. The nászom relationship is characterized by the maintenance of appropriate social distance and respect. Regardless of the social relationship between the nászom before the marriage of their children, after the marriage only the formal "you" and other respectful terms of address, such as nászuram (uram is Sir or Lord) and nászasszony (asszony is a formal Mrs.), are used. However, there is a distinction between those merely addressed as nászom and the "real" nász—the parents of the married couple. The "real" nász are bound by solemn and strong mutual obligations.

Those formal obligations begin the morning after the marriage, when the parents and guests of the bride walk to the home of the groom. The parents and guests of the groom await them at the front door and a formal handclasp and greeting is exchanged between the fathers, with the father of the groom welcoming the father of the bride as "nászuram" and asking God to allow them to be nászom "all our lives, to honor and esteem each other" and the bride's father answering, "So may God allow, nászuram." The clasp is then broken and a "nász glass" is raised, clinked and drained in one draft. Then the music begins and the nászuram and nászasszony lead the first dance.

Thereafter, the nászom are frequent guests in each other's home, given first place at table. They attend family weddings and bereavements in order to lead preparations so that the other parents can enjoy the wedding or mourn their loss. If able, they help each other with labor, and formally greet each other on name days and at New Year and other festivals.

Baptismal Koma

The next most honored kinship-like relationship is that of keresztkoma (baptismal sponsor/godfather). Although the keresztkoma relationship is most directly between the father and godfather of the child, in practice it is more an alliance between the parents and the godparents, as the wife of the godfather automatically becomes the godmother. Further, it is a reciprocal relationship: each couple is godparents to the other's child and being godparent of the first child means you will be godparents to all his/her siblings too. The keresztkoma are "first guests" at the marriage of each child and at other family festivals.

The koma relationship usually is established during a young man's bachelor or military days, when the two men commit to being life-long friends... thus best men at each other's weddings and baptismal sponsors to the other's children. In fact, the word koma is also used to mean buddy / pal / friend / special "brother."

The fact that a koma relationship can be established quite early on and that the commitment may be known only to the two komas can lead to complications: if one of the two komas is asked by another man to be keresztkoma to his child, it is not considered proper to avoid assuming such an honorable duty. Likewise, if one of the two has significantly more children than the other, to refuse to continue sponsorship is also improper... yet continuing can be cumbersome, as the keresztkoma relationship has duties and costs associated with it. And the responsibility may transfer to the sponsor's son or daughter, should he or his wife die.

A godmother is expected to carry the infant to the church for the baptism and then to cook at least two festive meals for the "lying-in" new mother and her family. And there are cash collections taken for both the new child and for the midwife, with the godfather expected to contribute the largest amount, the godmother half that amount and the other guests smaller amounts. Godfathers are also expected to give gifts on Easter and other occasions and the godmother to provide Easter eggs and treats to their godchildren. Godparents are involved with the education of their godchildren and their confirmation, supplying the first Psalter (book of psalms) for the child. And a godfather may supply miniature tools for his young godchildren, so they can begin to learn the rudiments of adult work, and real tools as the child grows.

The most important duties, however, are at the time of the child's wedding. The godparents accompany the engaged couple to the rectory prior to the wedding for the traditional "examination" by the pastor. Like at the baptism, the godparents again bring proportionally the most gifts to the wedding and the godmother bakes a special cake, the "godmother's loaf," being the largest one at the feast and the one from which a slice goes to every guest. She also provides the bridal wreath and a dress-length of black material for the traditional dark apparel of married women and directs the wedding preparations. The godfather acts as master-of-ceremonies at the wedding, providing charm, jokes, direction and dignity at the wedding table.

Keresztkoma are also involved when there is a death in the house of a godchild. The godfather directs the funeral arrangements, informs civil and church officials, and works with the pastor on the eulogy. At the funeral he assists the pastor throughout the proceedings and burial, and invites close kin and the gravediggers to a funeral feast. If the deceased is a goddaughter, the godmother provides a bridal wreath and veil for her to be buried with.

Being a keresztkoma is considered an essential part of a full life, as it is the position of highest dignity offered by family life in the circle of ones relatives and friends. Not being a keresztkoma is considered a defect and other's feel sorry for those so afflicted. Nonetheless, even though it is an honorable kinship-like role, if one is forced to choose, children come first in

Átány.







Affinity (Marriage-based Relatives)

Marriage of one's siblings creates special links. The husband of a sister is a sógor (brother-in-law), as is the husband of a sister of one's parent or grandparent. Likewise, the husbands of female cousins are sórgors, and are so addressed. However, those who are 10-15 years or more older than the one addressing them are addressed by the more-respectful term, sógorom. One's sister's husband is of a special class, a "blood sórgor," and is also addressed as sógorom, even if he is of the same age.

Similarly, the wife of a brother is an ángy (sister-in-law) and addressed as ángyom. This term of address likewise extends to the wives of brothers of one's parent or grandparent and to the wives of male cousins. The more-respectful term, ángyasszony, is used for those who are 10-15 years or more older than the one addressing them.

One's own marriage also leads to special affinial relationships with the siblings of your spouse and to her/his parents and grandparents. A brother to your spouse is also a sórgor and is addressed as sógorom if sufficiently older. A sister to your spouse is an ángy but is addressed as néném if sufficiently older.

Husbands and wives address each other's father (apám) and mother (anyám) via the respectful terms, apámuram and anyámasszony. Likewise, grandparents (nagyapám and nagyanyám) are always addressed respectfully as nagyapámuram and nagyanyámasszony. Further, after marriage, spouses address each other's more distant relatives in the same way their spouse addresses them.

Nonetheless, affinial relationships are considered as something less than blood relationships... it is "less than being really related." Within the family circle, the sórgor, vö (son-in-law) and nász belong in an equivalent social category, for example, by assisting in bereavement by closing the coffin and carrying it out of the house, and digging the grave and lowering it into the grave. They may also substitute for absent sponsors, taking on the koma role.





Rokonság means relationship and a rokon is a relative. The strict interpretation is a relative based on affinity (marriage) but the wider usage encompasses both blood and marriage relationships. It is a term used when people speak in general about relatives but feel no need to specify the linkage involved.



3) TRANSLATION OF A LONG-FORM HUNGARIAN CIVIL BIRTH RECORD

Below is an example "long-form" Hungarian civil birth record (used from 1895-1906). For those of us experienced with these forms, it is easy to pick out quickly the pertinent information... but they can be pretty daunting when viewed for the first time. Given that I had already provided a translation of this birth record for a new BB member, I've chosen to double-dip and make that translation available here so more of us can benefit from it. My thanks go out to Réka Kieß for verifying (and correcting a bit) of the translations.

The translation, presented below the image, is line-by-line, formatted as shown on the original form. Preprinted text is shown by this standard newsletter font, hand-written text is shown in this

script font

, and my occasional comments are

[in square brackets in this font]

.

Here is the image of the record:





Translation:



106

number.

[sequential record number in year]


Dated:

Alhó

[Markt Allhau]


1

902

(thousand

nine-hundred and two

) year


October

month

20

(

twentieth

) day.
Appeared before the undersigned Registrar


t

he father named below


whose position (occupation):

Shoemaker assistant


residence:

Alhó


and who

m the undersigned registrar


person

ally knows


and announced the birth of the following:

The legal father

[<- vertical text on left]


Family and first name:

Fiedler József


Religion:

Augsburg Confession Lutheran


Position (occupation):

Shoemaker assistant


Residence:

Alhó


Birthplace:

Alhó


Age:

32

(

thirty-two

) years.

The mother

[<- vertical text on left]


Family and first name:

Mrs. Fiedler József born Halper




Aloisia


Religion:

Roman Catholic


Position (occupation):

H

omemaker


Residence:

Alhó


Birthplace:

Jobbágy-Ujfalu

[Rohrbach an der Teich]


Age:

30

(

thirty

) years.

The birth

[<- vertical text on left]


Place:

Alhó 29 house number


Time: 1

902

(thousand

nine-hundred and two

)
Year

October

month

15

(

fifteen

)
Day in the

morning at 8

(

eight

) hour.

The child

[<- vertical text on left]


Gender:

F

emale

; religion:

Roman Catholic


Name:

Teresia



Comment:

[none]



Read in

[translated to]

German and comprehended


Confirmed and

signed below





Fleck Károly Josef Fiedler


Registrar notifier

The witness agreed with this first copy.

Done at:

Alhó

1

902

year

October

month

2

0

day.


Fleck Károly


Registrar





I hope some of you find this useful. As separate articles, I will provide similar line-by-line translations of an example "long-form" Hungarian civil death record and of an example "long-form" Hungarian civil marriage record.

4) DRAßBURG WAR MEMORIAL MONUMENTS
BB member Andreas Shoredits, of Cape Town, South Africa, shared some photographs that he made of the World War I and II Memorial monuments in the graveyard in Draßburg, Burgenland, the town where his parents were born.
His mother, Teresa, was the daughter of Michael Barisich and Elizabeth Jambrich, and she settled in South Africa in 1938. His father, Andreas, was the son of Andreas Soredits and Maria Tomaszovits, and he settled in South Africa in 1937. Clearly, they managed to find each other there!

Andy tells me that his father left Burgenland due to the political turmoil ahead of the Nazi annexation and the impending war. However, in spite of this move, he was interned in South Africa from 1940-1945. After the war he dropped the "c" from Schoredits due to the post war animosity of anything Germanic. Andy's father and his contracting business served as a draw for other Draßburg emigrants, who later joined him as workers in his business.
Andy says he is researching his family and currently is going through the Draßburg church microfilms (1825-1895), which he says is "a lot of work but very rewarding and educational." He also says he will be happy to share his transcription when finished, so contact him if you have interest in Draßburg records.
As for the monuments, they record the killed-in-action (Gefallene) and missing (Vermisste) from the wars, giving the soldier's name and years of birth and death for those killed, and the name and year of birth for those missing. The WW-II monument also includes a few civilians who were killed by enemy action.

For WW-I, 63 names of killed or missing service men are documented. For WW-II, the corresponding number is 102, plus 5 civilians killed by enemy action. This from a town that, prior to WW-I (1910), had a population of 1232 in 201 houses. Before WW-II (1934), the corresponding counts were 1334 people and 271 houses. So, on average, every 3rd or fourth family had a son who died in each war. Recently (2011), the population of Draßburg was 1123 people among 337 family units. Not surprisingly, Andy is related to many of the names on the monuments, including two maternal uncles.

I first show Andy's photograph and then follow with my transcription of the data in the photograph (with the data completely alphabetized instead of the approximate alphabetization shown on the monument). The transcribed data has also been added to the Draßburg thumbnail village history (at: http://www.the-burgenland-bunch.org/V_Histories/Drassburg.htm).

My thanks to Andy for sharing!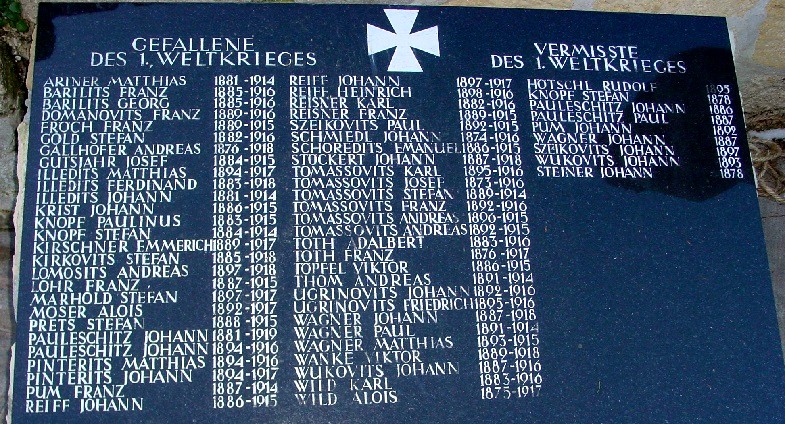 WW-I Killed-in-Action (Gefallene)
WW-I Missing (Vermisste)
Artner, Matthias
1881-1914
Reiff, Johann
1886-1915
Hötschl, Rudolf
1895
Barilits, Franz
1885-1916
Reiff, Johann
1897-1917
Knopf, Stefan
1878
Barilits, Georg
1885-1916
Reisner, Franz
1889-1915
Pauleschitz, Johann
1886
Domanovits, Franz
1889-1916
Reisner, Karl
1882-1916
Pauleschitz, Paul
1887
Fröch, Franz
1889-1915
Schmiedl, Johann
1874-1916
Pum, Johann
1892
Gallhofer, Andreas
1876-1918
Schoredits, Emanuel
1886-1915
Steiner, Johann
1878
Gold, Stefan
1882-1916
Stöckert, Johann
1887-1918
Szeikovits, Johann
1897
Gutsjahr, Josef
1884-1915
Szeikovits, Paul
1892-1915
Wagner, Johann
1887
Illedits, Ferdinand
1883-1918
Thom, Andreas
1891-1914
Wukovits, Johann
1893
Illedits, Johann
1881-1914
Tomassovits, Andreas
1896-1915
Illedits, Matthias
1894-1917
Tomassovits, Andreas
1892-1915
Kirkovits, Stefan
1885-1918
Tomassovits, Franz
1892-1916
Kirschner, Emmerich
1889-1917
Tomassovits, Josef
1873-1916
Knopf, Paulinus
1883-1915
Tomassovits, Karl
1895-1916
Knopf, Stefan
1884-1914
Tomassovits, Stefan
1889-1914
Krist, Johann
1886-1915
Toth, Adalbert
1883-1916
Lohr, Franz
1887-1915
Toth, Franz
1876-1917
Lomosits, Andreas
1897-1918
Töpfel, Viktor
1886-1915
Marhold, Stefan
1897-1917
Ugrinovits, Friedrich
1895-1916
Moser, Alois
1892-1917
Ugrinovits, Johann
1892-1916
Pauleschitz, Johann
1881-1919
Wagner, Johann
1887-1918
Pauleschitz, Johann
1894-1916
Wagner, Matthias
1893-1915
Pinterits, Matthias
1894-1916
Wagner, Paul
1891-1914
Pinterits, Johann
1894-1917
Wanke, Viktor
1889-1918
Prets, Stefan
1888-1915
Wild, Alois
1875-1917
Pum, Franz
1887-1914
Wild, Karl
1883-1916
Reiff, Heinrich
1898-1916
Wukovits, Johann
1887-1916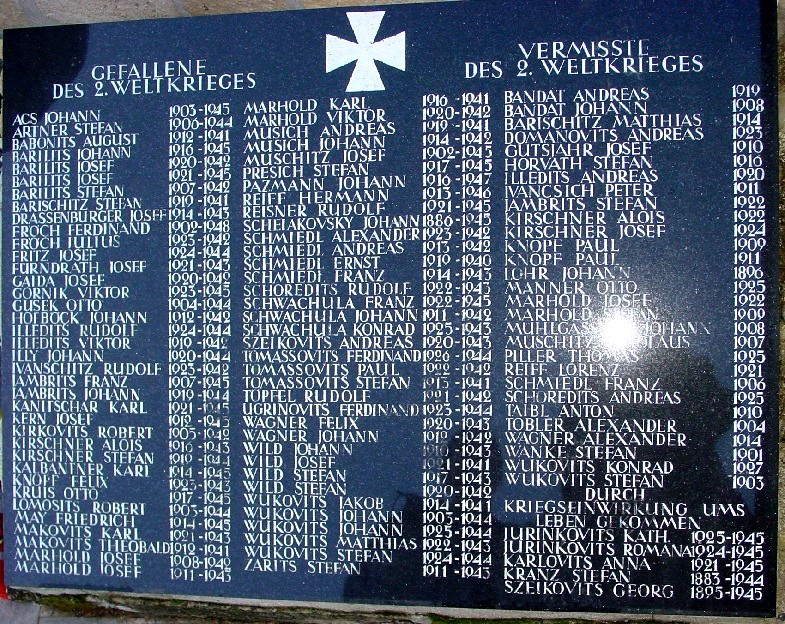 WW-II Killed-in-Action (Gefallene)
WW-II Missing (Vermisste)
Acs, Johann
1903-1945
Marhold, Karl
1916-1941
Bandat, Andreas
1919
Artner, Stefan
1906-1944
Marhold, Viktor
1920-1942
Bandat, Johann
1908
Babonits, August
1912-1941
May, Freidrich
1914-1945
Barischitz, Matthias
1914
Barilits, Johann
1916-1945
Muschitz, Josef
1902-1945
Domanovits, Andreas
1923
Barilits, Josef
1920-1942
Musich, Andreas
1912-1941
Gutsjahr, Josef
1910
Barilits, Josef
1921-1945
Musich, Johann
1914-1942
Horvath, Stefan
1916
Barilits, Stefan
1907-1942
Pazmann, Johann
1916-1947
Illedits, Andreas
1920
Barischitz, Stefan
1919-1941
Presich, Stefan
1917-1945
Ivancich, Peter
1911
Drassenburger, Josef
1914-1943
Reiff, Hermann
1913-1946
Jambrits, Stefan
1922
Fritz, Josef
1924-1944
Reisner, Rudolf
1921-1945
Kirschner, Alois
1922
Fröch, Ferdinand
1902-1948
Scheiakovsky, Johann
1886-1945
Kirschner, Josef
1924
Fröch, Julius
1923-1942
Schmiedl, Alexander
1923-1942
Knopf, Paul
1909
Fürndrath, Josef
1921-1943
Schmiedl, Ernst
1919-1940
Knopf, Paul
1911
Gaida, Josef
1920-1942
Schmiedl, Franz
1914-1943
Lohr, Johann
1896
Gornik, Viktor
1923-1945
Schoredits, Rudolf
1922-1943
Manner, Otto
1925
Gusek, Otto
1904-1944
Schwachula, Franz
1922-1945
Marhold, Josef
1922
Hofböck, Johann
1912-1942
Schwachula, Johann
1911-1942
Marhold, Stefan
1909
Illedits, Rudolf
1924-1944
Schwachula, Konrad
1925-1943
Muhlgassner, Johann
1908
Illedits, Viktor
1919-1942
Szeikovits, Andreas
1920-1943
Muschitz, Nikolaus
1907
Illy, Johann
1920-1944
Tomassovits, Ferdinand
1926-1944
Piller, Thomas
1925
Ivanschitz, Rudolf
1923-1942
Tomassovits, Paul
1922-1942
Reiff, Lorenz
1921
Jambrits, Franz
1907-1945
Tomassovits, Stefan
1913-1941
Schmiedl, Franz
1906
Jambrits, Johann
1919-1944
Töpfel, Rudolf
1921-1942
Schoredits, Franz
1906
Kalbantner, Karl
1914-1945
Ugrinovits, Ferdinand
1923-1944
Taibl, Anton
1910
Kanitschar, Karl
1921-1945
Wagner, Felix
1920-1943
Tobler, Alexander
1904
Kern, Josef
1912-1945
Wagner, Johann
1912-1942
Wagner, Alexander
1914
Kirkovits, Robert
1905-1942
Wild, Johann
1912-1943
Wanke, Stefan
1901
Kirschner, Alois
1916-1943
Wild, Josef
1921-1941
Wukovits, Konrad
1927
Kirschner, Stefan
1919-1944
Wild, Stefan
1917-1943
Wukovits, Stefan
1903
Knopf, Felix
1923-1943
Wild, Stefan
1920-1942

WW-II Killed by Enemy Action
(Durch Kriegseinwirkung Ums Leben Gekommen)

Kruis, Otto
1917-1945
Wukovits, Jakob
1914-1941
Lomosits, Robert
1903-1944
Wukovits, Johann
1903-1944
Jurinkovits, Katherina
1925-1945
Makovits, Karl
1921-1943
Wukovits, Johann
1925-1944
Jurinkovits, Romana
1924-1945
Makovits, Theobald
1912-1941
Wukovits, Mathias
1922-1943
Karlovits, Anna
1921-1945
Marhold, Josef
1908-1942
Wukovits, Stefan
1924-1944
Kranz, Stefan
1883-1944
Marhold, Josef
1911-1943
Zarits, Stefan
1911-1943
Szeikovits, Georg
1895-1945
Marhold, Karl
1916-1941
5) HISTORICAL BB NEWSLETTER ARTICLES
Editor: This is part of our series designed to recycle interesting articles from the BB Newsletters of 10 years ago. However, like often happens, I did not find a short article in the March 2006 Edition that grabbed my attention enough to reprint it. Instead, I return to the early years of the BB (1998) and an article that looks at America from foreign eyes...



THE BURGENLAND BUNCH NEWS - No. 49
Dec 31, 1998

EMIGRATION ARTICLES FROM THE "VOLKSFREUND" - EARLY 1900's

(Ed. Note [Gerry]: this is the final series of Volksfreund articles written at the turn of the century by Adolf Königshofer, school teacher in Poppendorf, and contributing columnist to the newspaper "Volksfreund". Extracted and translated from the original by Adolf's great-grandson, our Austrian Contributing Editor, Fritz Königshofer. It is different in that not only does it contain the story of a returning emigrant but one who earned his money in the western US as opposed to the east.)

Fritz writes: Re: Emigration (4 of 5), final series of Volksfreund articles. The following story belongs to the ones showing the attraction of the United States of America as a place to work and earn money. While I myself have not yet visited the place described in the story, it appears that the returned emigrant speaks about Yellowstone Park.

From Der Volksfreund, 12 December 1908, pages 3 and 4:

"What a returning emigrant told me. 'Mr. Teacher, have you already heard about the American National Park?' a returned emigrant recently asked me. 'Yes, I have heard of it, but not much!' I replied. 'In that case, listen. Last summer I worked at the construction of a new hotel in the National Park. This park is so large that the entire parks of all European metropolises taken together do not approach its size; the park is located far out in the West, and can comfortably be reached by train. Every year it is visited by the thousands who go there to look at its natural attractions. There is nothing artificial there, nothing made by man as in a city; everything is nature. The park is supervised by park police, mounted on horses, all handsome young men and mostly Germans. It is strictly forbidden to take anything with you as a souvenir, be it a stone, a flower, a plant etc., as is also scrawling on trees and rocks.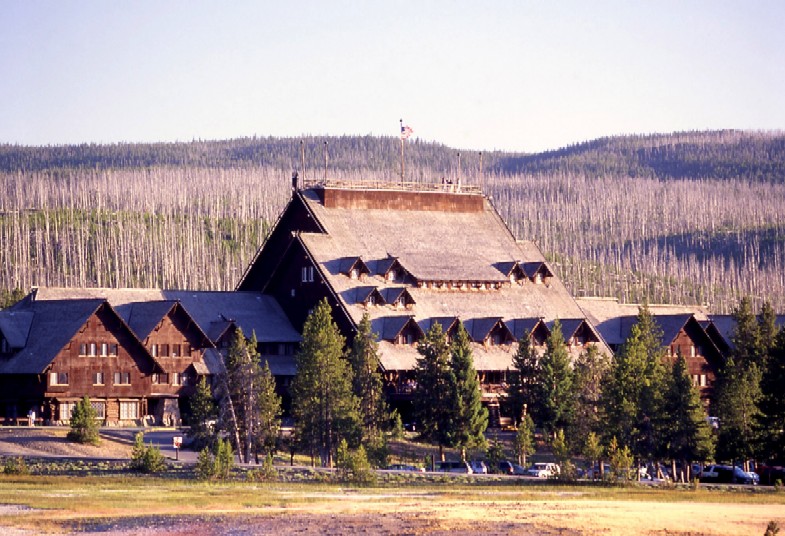 There are several big inns and hotels in the park, some of which belong to one and the same company; they are built of timber and resemble large loghouses, and are very spacious inside, so that the wealthiest and the poorest all find best accommodation; the buildings are miles apart from each other; mostly, you find them near the special sights of the park. The park varies from small plains full of grass, the most beautiful spruce forests, to hilly terrain and to mountain ranges which from far away look like fortresses.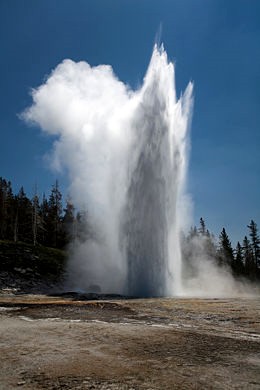 In the mountains you find the lake with the highest altitude of North America, 8,000 meters [must mean: feet] high. Brooks and rivers full of fish run through the valleys. The rivers sometimes form waterfalls up to 360 meters down. Then there are the warm geysers (springs) which send their water to towering heights; many of these are there; they are strewn all over the park and erupt at irregular intervals. One of them erupts every minute and has the name Minuteman; another every 15, yet another every 65-75 minutes, and yet another every 17-24 days. Some discharge the purest water, while others eject mud coming from within the earth 10 to 150 meters high. Here and there, a warm spring bubbles over steps of rock; on these steps, sinter gets formed, so that the steps look like marble. Hot steam also arises from the earth, and hours-long roaring can be heard from the respective mouths. Furthermore, a lot of holes can be found in the soil, which are relics of once active geysers; deep down one can still hear a mysterious hissing and roaring.

Indeed, Mr. Teacher, if you yourself would have gone through all of what I have seen and experienced, you could tell a lot; people like us don't pay much attention; we look only for money in America, everything else is peripheral. I thank the Lord for the happy return to my folks. I have been able to render my house free of debts, have even been able to acquire a little bit additional land, and have stashed away a few florins cash as well; had I stayed back here instead, they would have sold my little house over me, and I could now serve as a farmhand somewhere. My wife and children would be in poverty. Yes, this America was a blessing for me."


6) ETHNIC EVENTS

LEHIGH VALLEY, PA

Saturday, April 9: Ein Abend in Wien (A Night in Vienna) at the Lancaster Liederkranz. Entertainment by the Walt Groller Orchestra. Info: www.lancasterliederkranz.com.

Saturday, April 9: 67th Stiftungsfest of the Edelweiss Schuhplattlers at the Reading Liederkranz. Entertainment by The Haus Band, Kermit Ohlinger, and local German folk dance groups. Info: www.readingliederkranz.com.

Sunday, April 17: Frühlingskonzert at the Reading Liederkranz. Entertainment by the Reading Liederkranz Singers, guest German choruses, and the Joe Weber Band. Info: www.readingliederkranz.com.

Sunday, April 17: Winteraustreiben (Winter Vanquish Fest) at the Germansville Fire Company. Entertainment by the Walt Groller Orchestra from 3:00-7:00 PM. Info & Reservations: (610) 767-1822.

Saturday, April 23: Viennese Concert & Ball at the Sunnybrook Ballroom in Pottstown. Entertainment includes the Main Line Symphony Orchestra, the Walt Groller Orchestra, George Batman on the theater organ, the Millhouse Trio playing island jazz, and a ballet performance by the LeRoux School of Dance. Doors open at 3:30 pm, with the Grand March at 5 pm, dinner served at 7 pm, and dancing to 11 pm. $75 per person ($55 for students) and reservations are required. Contact Joe or Ellen Groller at 610-435-7726 or visit online at www.VienneseConcert.com.

Saturday, April 23: Lancaster Liederkranz Chorus Spring Concert at Zion Evangelical Lutheran Church in Landisville. Info: www.lancasterliederkranz.com.

Saturday, April 23: Spring Dinner and Dance at the Lancaster Liederkranz. Entertainment by Die Immergrün Musikanten. Info: www.lancasterliederkranz.com.

Sunday, May 1: Maifest German Language Service at St. John's Lutheran Church at 521 Walnut St. in Reading. The Reading Liederkranz Singers will lead the congregation in German hymns and songs of spring. Info: www.readingliederkranz.com.

Saturday, May 7: Maitanz at the Lancaster Liederkranz. Entertainment by the Josef Kroboth Orchestra. Info: www.lancasterliederkranz.com.

Saturday, May 7: Maibaumtanz at the Coplay Sängerbund. Entertainment by the Coplay Sängerbund Chorus and the Joe Weber Orchestra. Info: www.coplaysaengerbund.com.


NEW BRITAIN, CT

Friday, April 1, 7 pm: Heimat Abend. Austrian Donau Club, 545 Arch Street, $3. Music by Joe Rogers and his band.

Friday, April 15, 7:30 pm: Heurigan Abend. Austrian Donau Club, 545 Arch Street, $3. Music by Schachtelgebirger Musikanten.

Friday, May 6, 7 pm: Heimat Abend. Austrian Donau Club, 545 Arch Street, $3. Music by Joe Rogers and his band.

Friday, May 20, 7:30 pm: Heurigan Abend. Austrian Donau Club, 545 Arch Street, $3. Music by Schachtelgebirger Musikanten.

ST. LOUIS, MO

Sunday, May 15, 2016, 2-5 pm: St Louis Gathering of Burgenländer and Descendants, at the Community Center Cafeteria of the Holy Name of Jesus Catholic Church, 10235 Ashbrook Dr, St. Louis. Contact Theresa McWilliams at theresamcwilliams32@gmail.com for more information or to say you plan to attend.

7) BURGENLAND EMIGRANT OBITUARIES
Hermine Early (née Popovitsch)


Hermine (Popovitsch) Early, 93, of Canton, Georgia, died peacefully on March 12, 2016, at Tranquility at Kennesaw Mountain Hospice.

Born June 5, 1922, in Olbendorf, Austria, She was raised the eldest of eight children by her mother, Maria Halper, and her stepfather, Franz Halper.

Hermine remained in her homeland through the end of World War II and was a volunteer nurse during the German occupation. In 1947, while working with Girl Scouts, she met George W. Early, an American Army master sergeant. He was mentoring Boy Scouts at the same location and the language barrier brought them together. They married in Vienna March 1950 and came to the United States. Seven years later, living in Ft. Huachuca, Arizona, she faced the sudden death of her husband and moved to his birth state of Georgia for his burial. She remained in Georgia to raise their two daughters. Hermine retired as a dietitian from DeKalb County School System after returning to school at age 45 to obtain her licensing. She loved to bake and was known for her breads, cakes and cinnamon rolls. An excellent seamstress and skilled in the art of most all handworks, notably her beautiful crocheted tablecloths, it was not unusual to find her up all night working at the sewing machine. Proudly, and with the encouragement of her friends and family, she earned her U.S. citizenship in 1996 and earned the right to vote. She was of the Catholic faith. Hermine lived 54 years in Decatur, Ga., until ill health necessitated a move to her daughter's home in Canton, Ga.

She is survived by two daughters and a son-in-law, Linda Early Artley (Jim Artley Jr.) of Sylvania, (Cooperville) Ga.; and Elfie Early of Canton, Ga.; two grandsons, Alan J. Artley and Michael N. Artley, both of Canton, Ohio. In Austria, she is survived by a sister, Emilie Schoeppl; and a brother, Fritz Halper; as well as several nieces and nephews in Austria and the U.S.

Visitation will be Tuesday, March 15, 2016, from 10-11 a.m. at Sosebee Funeral Home in Canton, Ga. A private family graveside service will be held later in Marietta National Cemetery. In lieu of flowers, Hermine wished a donation be made to the American Red Cross, 1955 Monroe Drive, Atlanta, GA 30324; or to the Disabled American Vets , P.O. Box 14301, Cincinnati, OH 45250-0301. Sosebee Funeral Home, Canton, GA is honored to serve the family. Sosebeefuneralhome.com; (770) 479-2131.

Published in Statesboro Herald from Mar. 15 to Mar. 22, 2016



Gabriela Remetei (née Benderl)


Gabriela (Benderl) Remetei, 90, of Westville, New Jersey, passed away on March 14, 2016 at home surrounded by her loving family.

Mrs. Remetei was born in Stegersbach, Austria and grew up in Mödling where she worked as a Governess. Christmas of 1956 she met, Aloysius, and after two years of exchanging love letters they were married and moved to the United States. A devoted wife, mother, homemaker, and grandmother; she enjoyed classical music, literature, baking, and camping. She had a strong love for her homeland and was a long time member of the Philadelphia Vicinity Hungarian Sports Club. Her smiling face will be missed by all.

Beloved wife of 56 years to Aloysius Remetei; devoted mother of Eva Christ (Michael) of Mt. Royal, NJ, Maria Remetei (John) of Westville, NJ, and Gabriela Brown (Philip) of Westville, NJ; loving grandmother of Stephen Remetei-Dixey, Nicole Remetei-Dixey (Douglas), Alexander Christ, and Philip Brown; sister of Franz Benderl (Anita) of Mödling, Austria; sister-in-law Edit Remetei of Baja, Hungary; as well as nieces and nephews.

Relatives & friends are invited to attend her visitation 9:30-11:00AM immediately followed by the funeral mass at St. Joachim Parish (Annunciation RC Church), 601 W. Browning Road, Bellmawr, NJ. Entombment at New St. Mary's Cemetery, Bellmawr. In lieu of flowers, memorial donations may be made to the Alzheimer's Association , 399 Market Street, Philadelphia, PA 19106. Share the memories…share the love… shareLife® at www.mcgfuneral.com

Published in Courier-Post from Mar. 17 to Mar. 18, 2016



John Neubauer


John Neubauer, 90, of Clifton, New Jersey, passed away peacefully on March 18, 2016.

Born in Gerersdorf bei Güssing, Burgenland, Austria in 1925, he came to the United States in 1951, settling in Passaic before moving to Clifton where he then resided for sixty-two years.

Prior to retiring, he had been employed as a machinist with Geiger Tool in Passaic and Circle Design and Manufacturing Corp. and later with Sandvik Steel in Fair Lawn as a tool and die maker. He retired in 1992. He was a faithful parishioner of Holy Trinity R.C. Church in Passaic and was a member of the Burgenländer-American Society and the Golden Agers.

Mr. Neubauer is survived by his wife of sixty-six years, Anna (née Luipersbeck) and by his brother, Franz, of Burgenland, Austria. He is also survived by two sons: John and his wife, Kathleen, of Clifton and Frank and his wife, Rose, of Bridgewater; and by four cherished grandchildren: Carolyn of Lake Hiawatha, Michael and his wife, Rachel, of Denville and Mark and Thomas of Bridgewater; and also by two great-grandchildren, Lorelei and Owen. Mr. Neubauer was predeceased by a brother, Julius, of Burgenland, Austria.

Funeral services will be Monday 11:30 AM at Bizub-Quinlan Funeral Home, 1313 Van Houten Avenue, Clifton. Entombment to follow at Calvary Cemetery Mausoleum, Paterson. Visiting Sunday from 1-5 PM. In lieu of flowers, memorial contributions to Holy Trinity RC Church, 226 Harrison Street, Passaic, NJ 07055 would be preferred and appreciated. Please visit www.bizub.com for driving directions and online condolences.

Published in The Record on Mar. 19, 2016



Gizella Chmiel (née Lackner)


May 6, 1926 - Mar. 16, 2016

SOUTH BEND - Gizella Chmiel, beloved mother, grandmother and friend, passed away on March 16, 2016. She was born on May 6, 1926, in Nikitch, Austria, to Stephen and Juliana Lackner. Her family immigrated to the United States in 1927 and settled in South Bend, Indiana. In 1949, she married Leo Chmiel. They celebrated their 60th wedding anniversary before his death on June 21, 2010. In addition to her husband, she was preceded in death by her brother, Steve, and her youngest daughter, Juli Ann.

She is survived by her three children: Andrew (Lucia), Steve (Cindy), and Rose (Ed Hardcastle); four grandchildren: Israel, Laura, Paula, and Amy; and one great-grandchild, Ava.

As a young adult, Gizella worked in a pattern and sewing factory distributing patterns, matching cloth and sewing rapidly to keep up with production. At home, she sewed clothes for her children and crocheted beautiful doilies. As a mother of four, she was often found doing the laundry and driving kids around, and, together with her parents and husband, preparing and canning vegetables from the large family "farm." They spent a lot of time together cooking traditional family meals such as pigs-in-a-blanket and pumpkin kolaches and, of course, soup with hand-cut noodles or dumplings. TV dinners were unheard of in her family. Gizella loved all her children and grandchildren very much and unconditionally. She had deep empathy for any person anywhere who was suffering or in need, praying for them, going out of her way to help, even with a sandwich. She dedicated a large part of her life to taking care of her youngest daughter, Juli, who had many health problems. Her long-suffering dedication and self-sacrifice was evident as she worked tirelessly, interceding and enduring many difficult moments until Juli's death in 2012. Gizella was also dedicated to her beloved parents, who lived just down the street from her home, caring for her father in his old age both in his home and hers until his passing. She was genuinely friendly towards people and never met anyone she did not like, for she always saw their best qualities and tended with great delicacy to minimize the rest. Gizella attended church at Our Lady of Hungary, Calvary Temple, and later at Christian Center. It was at church that she met close, lifelong friends. She really enjoyed spending her time socializing with family and friends, remembering them regularly with greeting cards or giving them a call. She preferred to be in the company of others and never seemed to need any time alone. In her later years she found pleasure in simple activities, such as watching the birds in her yard or receiving a card, phone call, or visit from a friend, especially after her eyes failed.

Gizella's family is grateful to the many caretakers and nurses from Memorial Home Health Care, Comfort Keepers, and other friends and extended family who came to her home to visit and care for her. A special thank you to Diane Verstraete and Barbara Treadwell for making her last years as enjoyable as possible. Visitation on Monday 3-7 pm and Funeral Service Tuesday, 11 am, with Rev. Ani Ikene officiating, will be hosted by Zahoran Funeral Home at 1826 S. Kemble Ave., South Bend, IN. Parking is available in the lot across the street. Burial will take place following the funeral at the Sacred Heart Cemetery. To leave an online condolence, please visit our website at www.zahoran.com, or our facebook page, Zahoran Funeral Home.

Published in South Bend Tribune from Mar. 20 to Mar. 21, 2016



John Gollinger


John Gollinger, 96, of Coplay, Pennsylvania, passed away March 22, 2016 at Manor Care, Bethlehem.

He was married to the late Lillian (Jost) Gollinger.

Born in Rábafüzes (Raabfidisch), Hungary, he was the son of the late John and Theresia (Klement) Gollinger.

A WWII veteran, he served his country honorably in the U.S. Navy. He was a route salesman for several New York bakeries. John was a member of St. Peter R.C. Church, Coplay. He was also a member of the Coplay Saengerbund.

Survivors: Son, James A. and wife Lei of North Haven, CT; daughter, Carol A. Murtagh wife of Bernard Murtagh of Roslyn Heights, NY; grandson, John Murtagh and wife Taneka; great-grandsons, Michael and Marcus; sister, Bette Bischoff of Whitehall; devoted companion, Inge Rottner of Coplay,

Services: Viewing from 8:30-9:30 a.m., Saturday, March 26, Robert A. Hauke Funeral Home, 327 Chestnut St., Coplay followed by a Blessing Service at 10:00 a.m., St. Peter R.C. Church, 4 S. Fifth St., Coplay. Interment, St. Peter Catholic Cemetery, Whitehall. Contributions: In lieu of flowers to St. Peter R.C. Church c/o the funeral home 18037.



Frank J. Dorman


Frank J. Dorman age 94, of La Crosse, Wisconsin, passed away on Tuesday, March 22, 2016 at Gundersen Health System.

He was the beloved husband of the late Roma (Schwenke) Dorman for over 50 years.

Born on October 26, 1921 in Podgoria, Austria, he as a son of the late Frank and Josephine (Biegelbauer) Dorman.

He was the loving father of James Dorman, Dennis (Ellie) Dorman and Penny (Kurt) Schutt; cherished grandfather of Heather (Camron) Monroe, Marc (Suzanne) Schutt, David (Jamie) Dorman, James Dorman (deceased), Jennifer (Matthew) Entwistle, and Kristin Schutt; loving brother of the late Mary (Lester) Andrade; dear uncle to Thomas (Denise) Andrade, Sandra (Mitch) Ballard and Craig Andrade; and devoted great-grandfather to Tristan, Greyson, Thomas, Joshua, and Maddison.

Frank took pride in his professional accomplishments. He graduated from Illinois Institute of Technology and earned double degrees in Mechanical Engineering (1943) and Industrial Engineering (1954). He served in the Navy from 1944 to 1946. During World War II, he served as a Radio Technician 2nd Class in the communications detail located deep underground on Oahu, Hawaii. After the war, he joined the Teletype Corporation as Manufacturing Engineer and retired after 40 years of service. He rose to Department Chief at Teletype and engineered the production lines for several major products. Teletype equipment was the backbone of military and commercial communications during his time there.

He raised his family in Norridge, Illinois, but also lived in Plainfield, Illinois after his children were grown and married. During his last 4 years he relocated to La Crosse, Wisconsin living at Eagle Crest, a wonderful assisted living facility. There he enjoyed many activities including singing in the choir. He also loved fishing on the dock, time on the river, and a good game of cards. Frank led a full and rich life. He was involved in family activities, a variety of outdoor sports including golfing and skiing, dancing with Roma, travel in the US and abroad, and Church every Sunday. But of course, he will always be remembered as the good father, grandfather and uncle that he was. He took great pride in the accomplishments of his children and grandchildren. He always said that the happiest of times were when he was with his family. He loved them all dearly, each and every one.

A Mass of Christian Burial will be held at 10:30am on Monday, March 28, 2016 at the Roncalli Newman Center, La Crosse. Rev. Peter Raj will officiate. Military rites following the Mass will be provided by the Roy Vingers American Legion Post 52 La Crosse. Burial will take place at a later date in St. Joseph's Cemetery, River Grove, IL. Friends may call on the family Monday morning at the church from 9:30am until the time of services. In lieu of flowers or gifts, a donation to Eagle Crest North or the Roncalli Newman Center would be welcome.

Published online on March 25, 2016 courtesy of Schumacher-Kish Funeral and Cremation Services - La Crosse


END OF NEWSLETTER (Even good things must end!)


NOTICE (Terms and Conditions): The Burgenland Bunch (BB) was formed and exists to assist Burgenland descendants in their research into their heritage and, toward that end, reserves the right to use any communication you have with us (email, letter, phone conversation, data upload, etc.) as part of our information exchange and educational research efforts.
• If you do not want your communication to be used for this purpose, indicate that it is "confidential" and we will abide by that request.
• Correspondents who communicate with the BB without requesting confidentiality retain their copyright but give a non-exclusive license to the BB allowing us to forward to BB members, publish in our monthly newsletter or on our website, and/or subsequently and permanently archive all or parts of such communications.

The Burgenland Bunch homepage (website) can be found at:
http://www.the-burgenland-bunch.org

Burgenland Bunch Newsletter, copyright © 2016 by The Burgenland Bunch
All rights reserved. Permission to copy excerpts granted if credit is provided.